dnirvine
4

July 22nd, 2013 + 11:07 PM
·

dnirvine
So, not really sure whether to name this "Lying There" or "Across the Yellow". Either way, it's about loosing a loved one in a car accident based on a dream I had in which I lost a girlfriend. Needless to say it hasn't happened to me in real life and hopefully never will to either one of us but still a sad song.

Any input is appreciated. Thanks!
3

November 13th, 2012 + 1:11 AM
·

dnirvine
Another song about a girl that left... sort of from the point of view that the guy is sort of moving on but not totally.
Anyway... let me know what you think!
5

July 30th, 2012 + 1:07 AM
·

dnirvine
Most definitely the first mix of many on this one haha. Another love song of sorts *broken love song*. Girl leaves guy, guy doesn't understand what's wrong with him, guy still wants her back, chances are, guy isn't getting her back. Sappy I know... hahaha.

I have lyrics for the chorus but they just don't seem to fit with the strumming and the strumming, to me, just doesn't seem to fit in with the rest of the song. It could be just me so I figured I'd post it and get some creative input. Hopefully you enjoy what I do have!!!
7

July 27th, 2012 + 2:07 AM
·

dnirvine
I changed a few lyrics, slowed it down a fair bit (never realized how fast I originally played it until I listened to it), added a few background vocals and just made a better recording (or so I thought). Recorded using my computer and a version of Adobe Audition.
Original Thread:
http://forum.bandamp.com/Audio_Review/8873.html
11

July 15th, 2012 + 5:07 PM
·

dnirvine
A song about a girl who was my first for everything (IE: First date, girl, etc...), but decided she didn't really want me after all.
The song was recorded using an iPhone so hence why the audio may suck, but it gets the just of it. I was just playing around so it wasn't a real serious recording session. Let me know what you think.
Alias:
dnirvine
Status: Offline
Threads:
5
Posts:
16
Songs:
5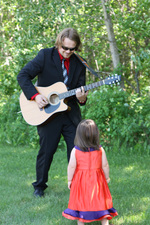 Joined: May 26th, 2003
Last login: January 21st, 2018
My Messengers
| | |
| --- | --- |
| AIM: | n/a |
| ICQ: | n/a |
| Skype: | n/a |